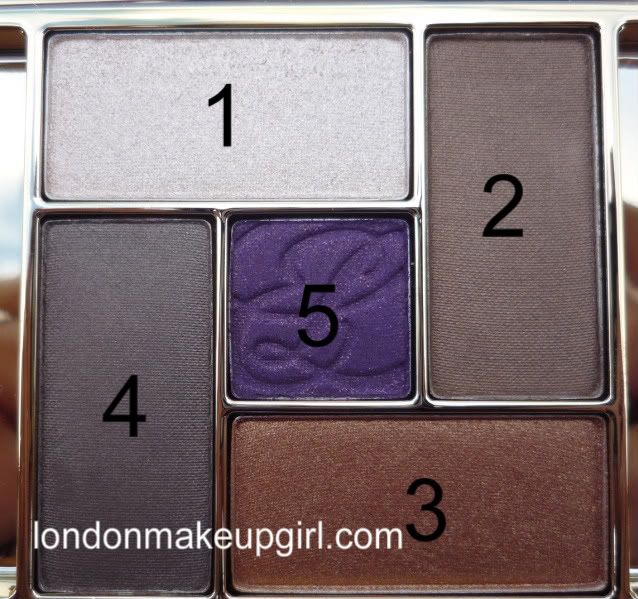 After writing I was interested in the Estee Lauder Spring 2011 collection, I was fortunate to be sent some items from the collection to try. The Wild Violet eyeshadow palette was the item I was most interested in, and I have been impressed with the quality of the eyeshadows and the colour combination. The colours are:
1. sparkly oyster beige (semi sheer)
2. slightly warm mid-brown shimmer
3. sparkly bronze (semi-sheer)
4. cool brown/taupe shimmer
5. deep violet shimmer with subtle sparkle
Swatched: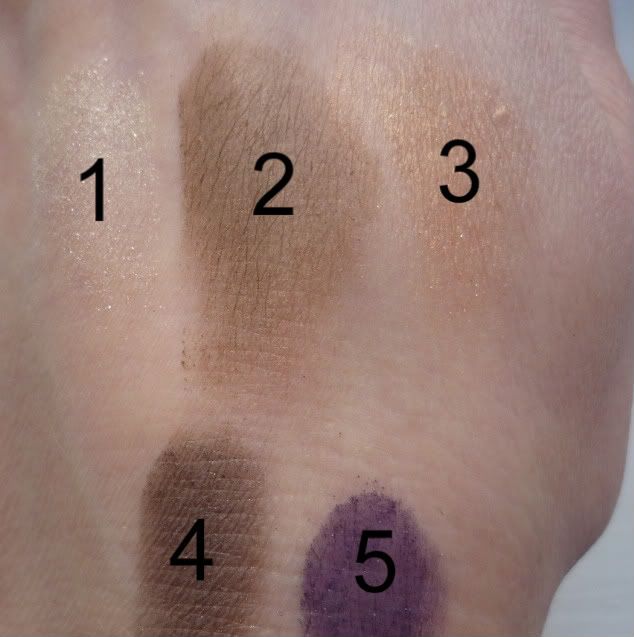 Applied. Taupe (4) on my lid, mid brown (2) in crease, oyster (1) underneath brow, bronze (3) patted on to middle of mobile lid, smoky violet (5) to line the eye.
The shimmer shades are very well-pigmented and apply and blend easily. They are not quite as fine-textured as Suqqu or Guerlain palette shimmer shades, but they are easier to build up colour and apply in a hurry. I would prefer it if the oyster was a semi-matte or satin texture, as then it could be used as a base shade as well as a highlight, but that's a matter of personal taste. I prefer mixing matte/satin textures with shimmer shades, instead of all out shimmer, and I prefer a satin colour on my brow bone.
As I was swatching the colours it occurred to me that the colour combination seemed quite similar to the Suqqu Blend Colour Eyeshadow 06 Ginbudo, so I took a picture of the two together. The differences are more apparent when placed side by side; the Suqqu palette is much cooler toned, and the white and dark plum shades are both matte. The gold accent colour is similar in texture to the bronze in the Estee Lauder palette, but the taupe/grey in the Suqqu palette is less pigmented (although a finer texture) than the two brown/taupe shades in the Estee Lauder palette.
In conclusion, this is a very wearable palette and a nice way to inject a touch of colour for Spring. The Wild Violet collection is currently exclusive to Selfridges, but rolls out to other Estee Lauder counters in February.
Disclosure: Estee Lauder palette was sent without charge by the PR officer for the brand.