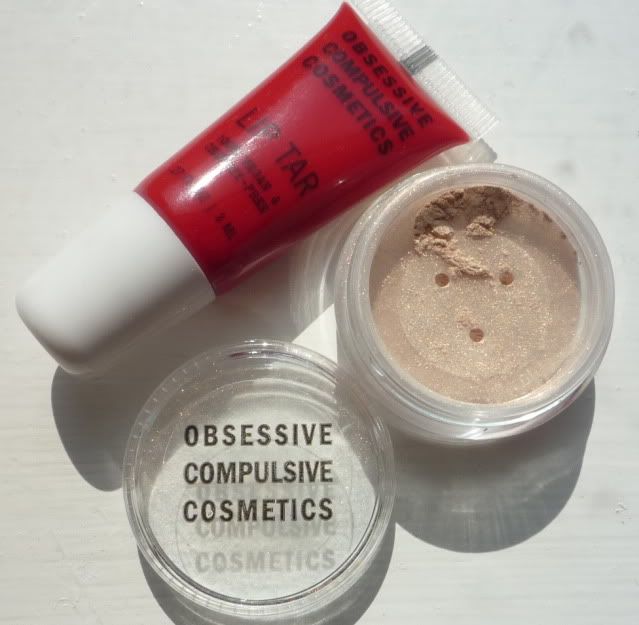 When I recently placed an order with
www.cocktailcosmetics.co.uk
the owner of the company also sent me some other pieces from Obsessive Compulsive Cosmetics to try. These two items were included, and they are Reverb Lip Tar (from the new Spring 2011 collection) and Twirl pigment.
Reverb is a hot orange red. It's the colour you'd get if you mixed OCC NSFW and Traffic Lip Tars. Like the Anime Lip Tar that I pictured
here
, you need an extremely small amount and use of a lip brush is essential (as is a good balm beforehand). The Lip Tars dry to a semi matte finish.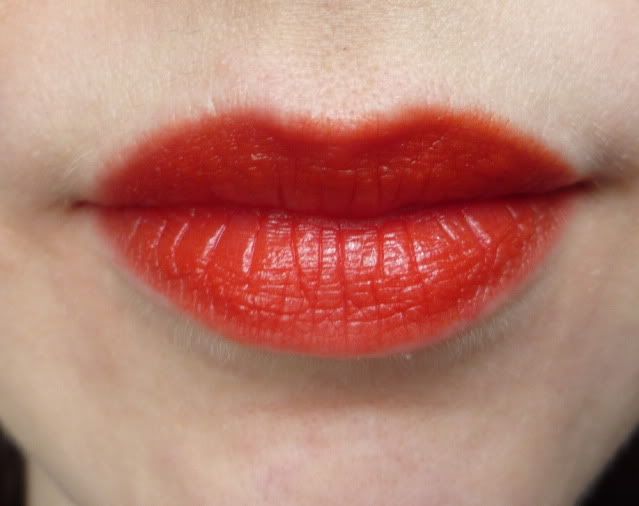 Twirl Colour Concentrate Pigment is a pale peachy shade. The colour reminds me of a slightly peachier version of MAC vanilla pigment. The OCC pigments seem to come in two textures; a sheerer veil texture (like Becca Loose Shimmer Powders) and a more full-on metallic texture (like MAC pigments). Twirl is one of the veil/highlight type of shades; I do have a couple of other shades in the more full-on texture to show you soon.
Applied: Twirl on lids and into crease, Reverb on lips, black mascara, brow pencil and concealer. I didn't wear blush on this day, and I can't decide if I like the look as is or if a bit of blush might have finished it off. I wish I'd dusted a touch of Twirl on my cheekbones to tie the eyes and lips together, and I think I'll try that next time I wear this combination. I do like the soft peachy eyes with the bold red lip.
slightly out of focus, courtesy of Mr London
Disclosure: products were sent without charge. Link, as always, is not an affiliate link.