I mentioned in my Armani Lip Wax post that I prefer to use Beaute Liqui-Gel Stains for a semi-matte stained-lip look as I find them less drying. I realised I'd never shown a picture of these applied, so here's that remedied. I also have a stinking cold (again) and my naturally pale lips and cheeks are now positively pallid, so the Liqui-Gel Stains are perfect for faking rosy cheeks and lips.
Harlot applied to my lips on its own. It applies as a sheer, cool bright pink. It doesn't look very bright in this photo, but my lips are naturally very pale. This is one light coat, dabbed on with my fingers. It is easy to build up to a brighter pink.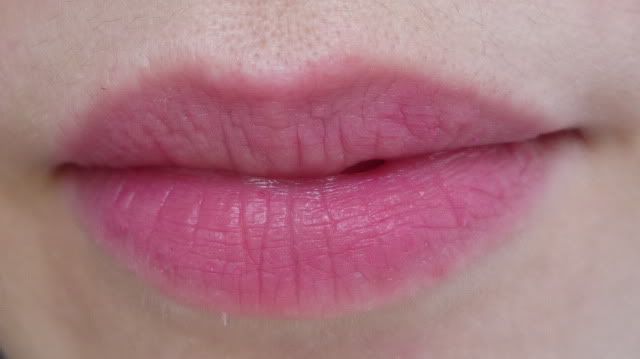 With Lady Stardust gloss applied over the top. Lady Stardust is a clear gloss with pink shimmer particles in it. It is very pretty and not too sticky, although long hair will adhere to it in windy weather.
Harlot applied on my cheeks, and Harlot and Lady Stardust on my lips. The Liqui-Gel Stains give good cheek colour that lasts all day, and the gel texture makes them much easier to blend than a liquid blush. They also last well on the lips, and I like them as a base for a glossy lip as my lips naturally have very little colour.