Pictured above - Satin Matte Foundation in Olive 0, sample Pearluster eyeshadow in Mocha, sample Luminous Shimmer Powder in Lumina and tinted Lip Balm in Pomegranate.
I've moaned before about how hard it is to get a good colour match for my pale olive skin. Most make up counters see yellow and try to match me with something warm, but I'm actually more of a pale beige with greenish undertones, and very yellow foundations make me look like something out of the Simpsons.
Alima is a mineral make up company that makes mineral foundation in a huge range of shades. My shade match is Olive 0, a pale (but not porcelain) olive beige shade. The Olive shades are beige without pink or yellow, the Beige shades are beige-peach with a hint of yellow, and the Neutrals are peachy without pink or yellow. I could wear (and have used and sampled, respectively) Neutral 2 and Beige 2 in the past, but Olive 0 is a better match for me. I have seen olive skin that's paler than mine (the girl in question quite sportingly described herself as having the complexion of the girl from The Ring) and I think if that's the case you'd need to go for a Neutral or Beige shade in 1 or 0 (if you're really extremely pale). Olive 0 is about a MAC 20 depth.
One of the things I really like about the Alima foundation is there is no bismuth oxychloride in it - the ingredient that can give many mineral foundation an almost metallic-looking 'glow' finish. I have tried brands that include this ingredient in the past and found that they made me look a bit like Data from Star Trek.
Picture of the foundation applied, with Lumina Luminous Shimmer Powder applied on the top of my cheekbone.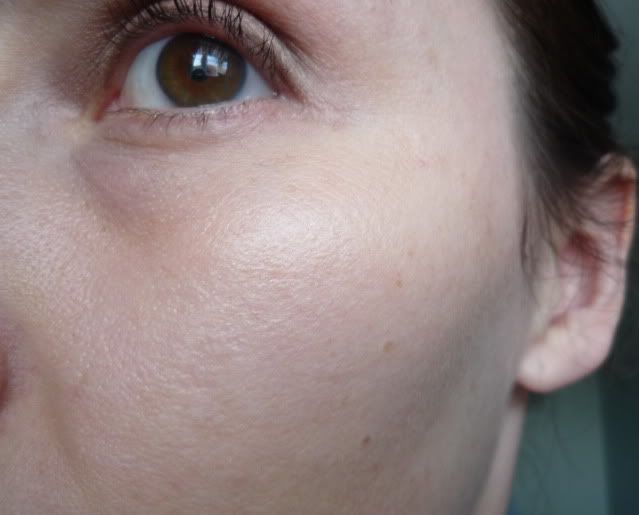 This one isn't quite in focus, but it does include the couple of spots I've helpfully grown to show the coverage that you can get with this foundation. It also shows that there is no tidal mark on my jawline.