I was sent some samples from the Tata Harper range with a recent Mise Beauty order. I'd seen a few mentions of the Tata Harper range, but wasn't overly excited by it; there are a fair few natural skincare lines, although the fact that the skincare is handmade by the company itself in Vermont, rather than outsourced to a factory as is more usual, is laudable.
I was sent samples of the Regenerating Cleanser, Hydrating Floral Essence, Rejuvenating Serum and Restorative Eye Cream.
Regenerating Cleanser - creamy cleanser with white willow bark and apricot seed powder to gently exfoliate the skin. Smells of neroli, leaves my skin feeling clean but not stripped. I would not use around the eyes due to the particles in it.
Hydrating Floral Essence - contains sodium hyaluronate, witch hazel and white willow. Smells beautiful, and leaves the skin feeling fresh and quenched, I like to leave my skin slightly damp with this before applying the serum.
Rejuvenating Serum - a light cream texture, containing various herbal essences that help to support and balance the skin, including menyanthes flower, extracts of narcissus bulb, alfalfa and meadowsweet, and immortelle, jasmine, chamomile and lavender essential oils. Smells lightly of the essential oils used. I do not need to use another moisturiser over this at night but it isn't heavy, although I wouldn't recommend for a very oily skin.
Restorative Eye Cream - rich, buttery, cream texture, contains plant waxes, arnica and eyebright extracts. Very soothing, particularly for dry or sore, tired eyes.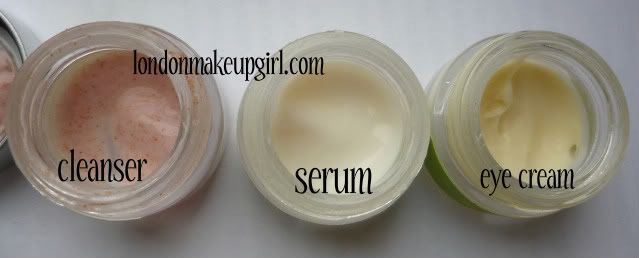 I've been using all four products for my night time routine since 08 March, so for just over a week, and the only other product I've added into the night time routine is an eye make-up remover (rms Beauty raw coconut cream). I've been using my usual Sarah Chapman spf 15 day cream during the day.
My skin lets me know very quickly if it doesn't like new skincare, but I don't think I've ever had such a quick positive reaction. I'm always a bit sceptical of anyone who claims they can see a difference in their skin after one or two uses of something, but with this my skin definitely feels smoother and calmer and looks brighter to my eye after just a few uses. I'm aware that this can only be on a superficial level as it takes at least four-six weeks for the skin to renew itself, but being this happy with how my skin is looking and feeling on a superficial level works for me.
I intend to buy the £53 deluxe starter kit to use the range for a bit longer before purchasing full sizes, but at the moment I eventually intend to buy the full size of the Rejuvenating Serum, Regenerating Cleanser and Floral Essence.
Tata Harper products are available from
Misebeauty.com
(they ship to the UK from Ireland, P&P is free if you spend over £60).
Disclosure: samples were provided without charge.