When I bought the Butter London No More Waity Katie nail polish from Zuneta recently I also bought one of the new cream eyeshadows from Rouge Bunny Rouge. I was confident that I'd like the colour Atlas Swallowtail after
this post
on Visionary Beauty.
The eyeshadow comes packaged in a tube with the typical beautiful Rouge Bunny Rouge livery, and a doe foot applicator. I don't use the applicator directly to apply; instead I use it to dispense a dab on the back of my hand and then pick it up from there and apply with either fingertips or a cream eyeshadow brush.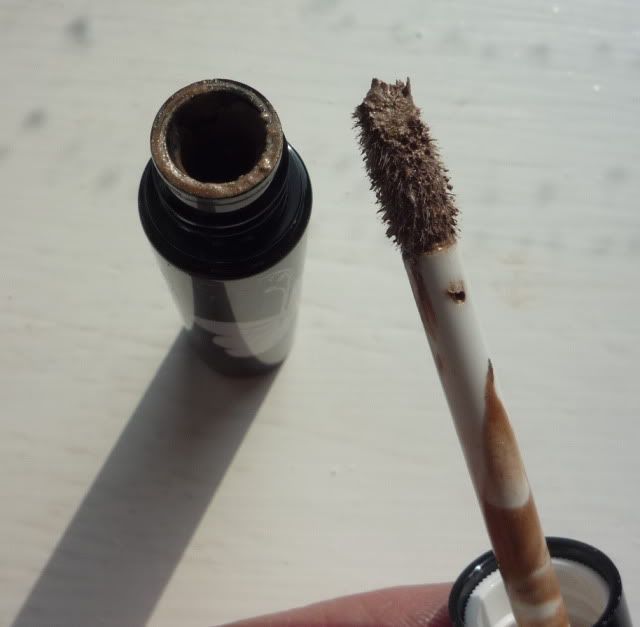 Atlas Swallowtail gives a soft polished eye look on its own, but also acts as a good base for powder eyeshadow. It reminds me a lot of the finish of the Kevyn Aucoin cream eyeshadows, which I also liked as bases as well as for a very quick and simple eye.
Comparison picture with other taupe cream eyeshadows I own.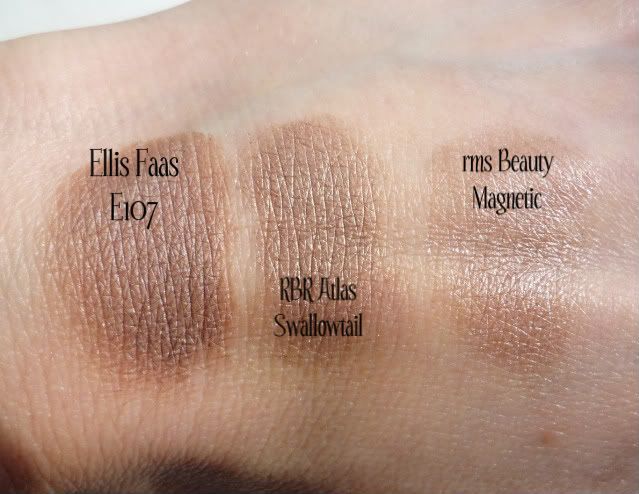 E107 is slightly more grey/mauve, and has less shimmer/sheen to it. It comes in the problematical Ellis Faas twist up bullet pen, and I wouldn't recommend this unless you know you're going to use it very regularly - I posted a video which shows my issues with the applicators
here
. On the plus side, this does wear extremely well. £23 for 2.5ml.
Atlas Swallowtail has a little more shimmer/sheen than E107 and a more golden/beige tone to it. I also found this wore incredibly well, with no creasing by the end of the day on me. £26 for 4g.
Magnetic has a sheerer, more glossy finish than the other two shades, and I find it very comfortable even on dry and tetchy lids. It also has the added skin benefits of the rms Beauty line; raw, organic ingredients. It does tend to crease, but it's easy to fix. I always reach for the rms Beauty line if I'm feeling under the weather but need to fake reasonable health, or if I want a very casual and not too done look. £19 for 4.25g.
I'm very happy to have bought the Atlas Swallowtail, which is a good substitute for the Ellis Faas Creamy Eyes without the applicator annoyance. There are four other neutral shades in the range and I'm particularly interested in Brocade Skipper, a champagne cream shade.