Illamasqua are launching new Cream Pigments as part of the Toxic Nature collection in six colours:
Delirium - rose taupe
Emerge - peach
Dab - lilac
Hollow - toffee
Bedaub - mint
Mould - grape
Cream pigments can be used anywhere on the face and body, and some members of the Illamasqua team were also using them to give pastel streaks in their hair. These give good colour payoff and are easily blendable and buildable. They are water resistant, although they don't set in the same way that waterproof cream colour products do (like the MUFE Aqua Creams do) and so if you are using on the eyes they do tend to crease, particularly if not set with a powder product. I personally prefer the texture of these to waterproof cream colours, which I find hard to blend and quite drying on my lids.
I received two of the cream pigments in my event bag, Delirium and Emerge.
Left: cream eyeshadow in Command. Right: cream pigment in Delirium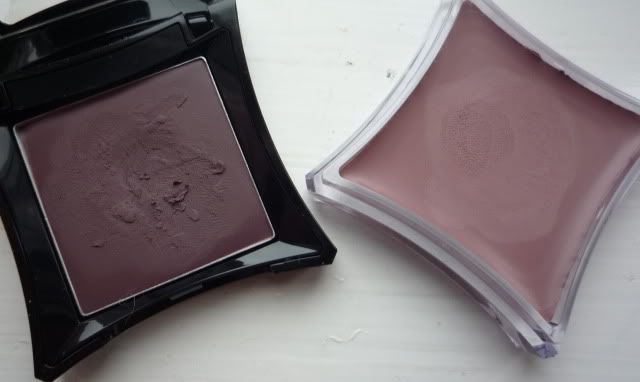 Swatched in same order. The cream pigment is noticeably smoother and applies more evenly.
I don't find the original Illamasqua cream eyeshadows too oily personally, my experience of them is that they can be a bit dry and draggy on the lid. I much prefer the smoother texture of the new cream pigments, and find it melds better into the skin. It's not crease-proof on the eye, but it does hold up for me better than the old cream eyeshadows did and it's a very good base for a powder eyeshadow. It's also worth mentioning that although the cream pigment is £17, it's 8g compared to the 2g in cream eyeshadow (for £15.50).
Delirium is a creamy rose taupe which works well on eyes and cheeks and it is wearable as a lip colour, although a bit too muted for my taste.
I've been wearing this in a slightly smoky rosy taupe eye look. I applied Delirium from lash to just above my crease, then a line of Sophie pencil, and then smudged Truth powder eyeshadow over the top of it all, blending the pencil onto the lid to avoid an obvious line.
Emerge is a clean peach shade. I haven't put it to a lot of use yet, as I don't typically wear peachy shades, but it looked lovely as a blush on a slightly warmer/more golden skintone at the Illamasqua Toxic Nature event.
You may also like it for the lips if you like a very nude lip: it knocks out the mauve tones and neutralises my lips completely.
A full face picture. I'm wearing the eye make-up described above, Delirium on my cheeks and Emerge on my lips. I did not enjoy looking at my face with such pale lips.
As above, but with Lanolips Rhubarb on my lips instead, which I feel much more comfortable in.
I like these a lot, and will definitely be buying Hollow, a neutral beige with no orange tones, as I think it will be excellent for contouring. I'm also quite interested in Mould for a base for a darker smoky eye - I think it'd be gorgeous with a shimmer pigment like Illamasqua Fervent over the top of it. These might not be the first choice for an oilier skin, but my normal to dry skin is loving them.
Disclosure: cream pigments were provided without charge as part of the Toxic Nature pre-launch event.