L: Rose Tea, R: Bois De Rose
Estee Lauder are revamping their lipstick range with the new Pure Colour Lipstick line in two formulations; the full coverage Long-Lasting lipstick, and sheerer Crystal lipstick (both come in creme and shimmer finishes). These have been available in Harrods since the end of January and are launching nationwide and on the Estee Lauder website
www.esteelauder.co.uk
from 28 February (Monday).
I was given the opportunity to pick a couple of shades to try, and I chose Rose Tea and Bois de Rose. In the tube, these look very similar, and are the type of rose/pink/brown shades that I typically chose if I'm not wearing a red or bright shade.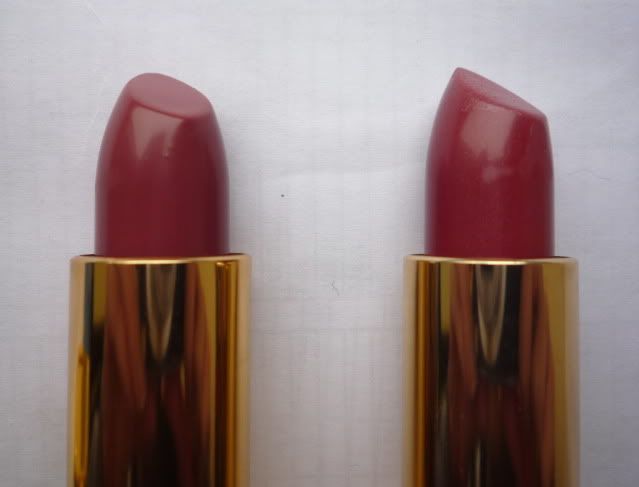 L: Rose Tea, R: Bois de Rose
Swatched, in same order. L: Rose Tea, R: Bois de Rose
Rose Tea looks less brown on my lips than it does when I swatch it, but my lips do tend to make many natural shades read pinker and paler than they do in hand swatches. On me, this is a natural, subdued lip. I would wear this with a heavier eye make-up; it'd work well with the Wild Violet eyeshadow palette I reviewed
here
.
Bois de Rose is deeper, and has more reddish/rosy tones than Rose Tea. Bois de Rose is an intensified lip to me, and a brightening colour, whereas Rose Tea is more of a natural lip.
The fig scent is never going to be my favourite (I liked it until I was pregnant, but ever since I've found it a little hard to love) but apart from that these are great lipsticks. The two colours I picked to try are both colours I'd wear a lot, and there is a good range of shades to choose from. The formula is creamy and comfortable, and wears well for at least three hours even in these more natural shades (I find bolder colours generally tend to last longer) without drying my lips or feathering.
The colour chart:
Disclosure: products in this post are PR samples.