I wrote that I might buy a more traditional lip colour in this formula, and today in Cambridge I did just that. Interestingly, more of the Lipcolours are sold out in the MAC store than the Mega Metal eyeshadows, which is the reverse of the online situation. I suspect that this is because the lipstick formulation and colours are more impressive in real life than they appear online and because the eyeshadows vary a lot in pigmentation and metallic-ness (which you can't test online).
The Kissable Lipcolours are a gloss/lipstick hybrid, have the typical MAC subtle vanilla scent, aren't sticky and give decent colour coverage. They don't last particularly long without substantial fading, but they are very comfortable to wear (and I usually find even MAC Lustre finish lipsticks dry my lips out).
I bought Temper Tantra, which looks quite brown in the tube but reads as more of a mid/deep browned pink on my naturally mauve lips (it reminds me a lot of Bobbi Brown Putty lipstick in colour).
Swatched on my hand:
In context of the rest of my face. I'm wearing Unflappable and Dalliance Mega Metal eyeshadows, and Brit Wit Blushcreme. Although it might not look like too much in the photo, I do feel a bit overcooked with this eye and lip combination.
Temper Tantra is a good match with Brit Wit Blushcreme, I think in future I will wear this combo with a simpler eye look.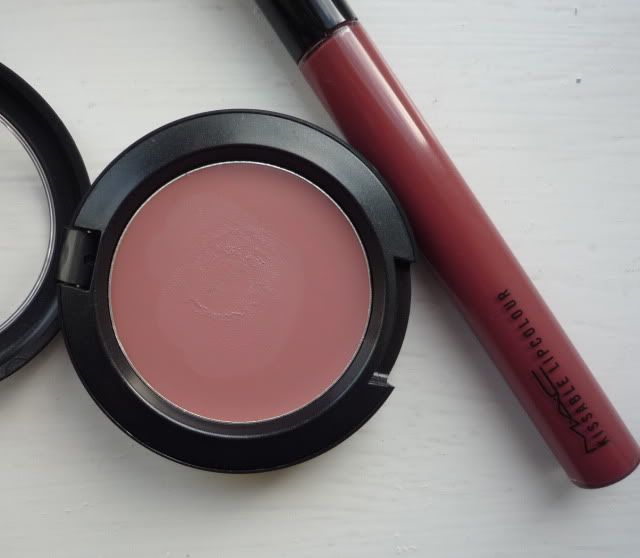 Brit Wit and Temper Tantra