I pulled out this Blend Eyeshadow and liner today; the launch of the Suqqu Creamy Glow Lipsticks in March is the next colour cosmetic launch I'm most looking forward to, so I'm gearing up for that. I am also interested in the new Frame Fix Cream Foundation (which should be released in the UK sometime in the Spring).
I used the white (matte) all over as a base, the purple (matte) in the outer corner of my mobile lid and into my crease, the taupe shimmer on the rest of my lid and blended into my crease, and the sheer gold on my browbone. I would say these are noticeably more pigmented (apart from the deliberately sheerer shimmery gold) than most previous Suqqu eyeshadow quads, and a lot more pigmented than the Spring 2010 Kisui collection (although the Spring quads do often tend to be lighter and sheerer).
The Eyeliner Creamy gel liner is excellent; it gives a boldly coloured line, and thickness of the line is easily controlled with the brush. If you wanted to smudge it for a smoky line you would need to work very quickly indeed, but I personally prefer a smudgier pencil for that kind of liner look. The Suqqu gel liner lasts all day and does not budge or smudge until I remove it.
My previous post on this palette (with swatches of the eyeshadows) can be found
here
.
A (not great) full face picture (it's very hard to avoid odd angles when taking a photo of yourself). I'm also wearing Balancing Cheeks 03 Hinagesi, and Blend Lipstick 14, a sheer pink/beige. I like this overall look better than the one I showed in the picture I posted when I first bought the quad, perhaps because of the extra definition the gel liner adds, or perhaps because I'm not wearing a competing bright purple t-shirt today.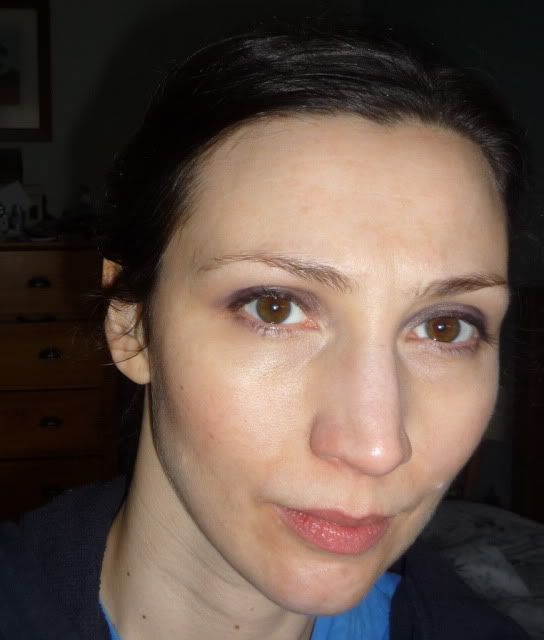 Suqqu is available in Selfridges London and Birmingham.