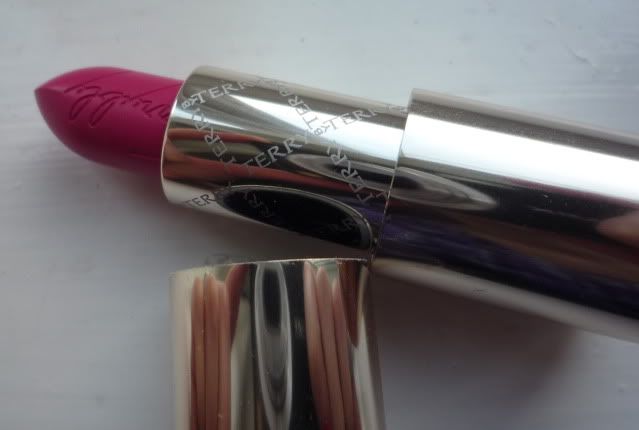 I bought this in SpaceNK last week, and said I would post a picture wearing it. I like the Rouge Terrybly formula very much; I do find it comfortable and positively moisturising (it adds moisture, rather than not drying out my lips). The downside of this is that I do need to use a lip brush to get a clean line, although it doesn't feather on me after it is applied and has 'set' a bit into my lips.
Torrid Rose is not quite as bright as Tom Ford Pure Pink, although it is definitely a cooler, brighter rose rather than a browned/dulled rose. I thought Pure Pink and Torrid Rose were much more different, until I swatched them side by side: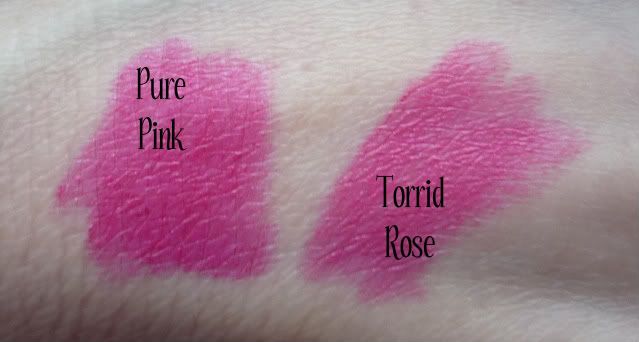 Yes, I've graduated from buying similar red lipsticks to buying similar bright pink lipsticks. Torrid Rose is slightly lighter, and also has more white pigment in the base, because on my lips it is noticeably less bright than Pure Pink.
Picture in context of the rest of my face:
It's a nicely wearable pink/rose and I'm glad I bought it. I'll definitely be having a closer look at some of the other pinks from the range.