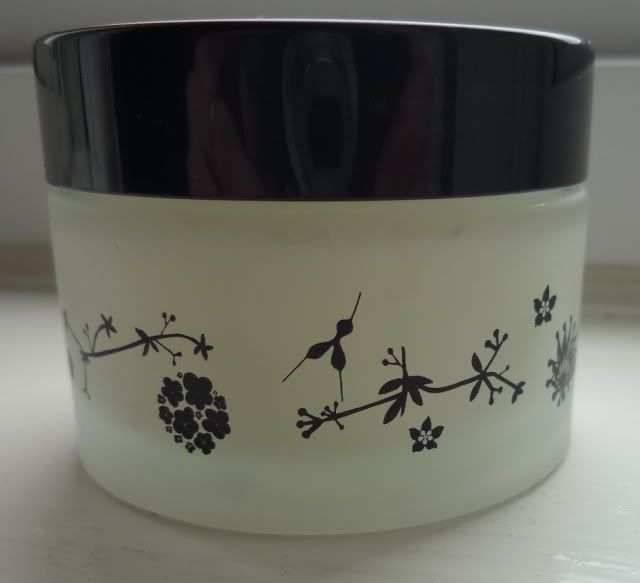 Rouge Bunny Rouge is one of my absolute favourite cosmetic brands, so I was very interested in having a go with the Deliquesce cleanser when the folks at Zuneta sent it to me to try out.
This cleanser has a fondant-like texture and is extremely good for facial massage; the rich texture allows me to work my skin and muscles without friction (thus avoids pinching my face) and it smells beautiful (a soft herbal/eucalyptus blend). It's also a very effective make-up remover and cleanser; this was my preferred cleanser for thoroughly removing the
Dr Sebagh sun protection cream I reviewed last week
, and it takes off heavy eye make-up without irritating or tugging my eyes.
To use, I apply about a 5 pence piece sized blob to my dry face and then massage it in thoroughly. I apply another blob (same size) to my neck and massage, and then add water to my face and neck to emulsify the cleanser. I remove with the muslin cloth provided (dampened in warm water) or with a Liz Earle muslin (I have a stack of these, which I love). Finally, I rinse my face with warm water, finishing with a splash of cool water.
I do think that the amount (50g) is not particularly generous for the price (£46), and makes it one of the more expensive balm cleansers. For my normal-to-dry skin, there are other less expensive balm cleansers that suit my skin for regular use, and I am using the Rouge Bunny Rouge for a weekly treatment/massage cleanse, for the odd nights when I have a lot of eye make-up to remove, or for nights when I'm completely exhausted (I can cleanse with this and not have to bother with moisturiser afterwards). An extremely dry skin might consider the softening qualities worth the extra expense and use more regularly.
Summary - very effective cleanser, smells lovely, leaves skin feeling soft. Expensive for the amount of product. Like all Rouge Bunny Rouge, gorgeous packaging. Available from www.zuneta.com
here
.
Ingredients:
Disclosure: product was provided without charge. As usual, link is not an affiliate link.