Desert Rose is one of the paler, pinker neutral blushes from Bobbi Brown. I find Tawny (one of the most popular original neutral Bobbi Brown blushes) is too dark and goes a little orange on my skin, likewise Sand Pink gives me a bit too much colour for me to consider it a neutral. Desert Rose is just right. There is absolutely no shimmer or sheen to this blush, the texture is a soft and forgiving matte.
My one is in the old style, round packaging. These now come in square pans that work with the Bobbi Brown palette system. From a look at the counter, the colour and formula of the blush appears to be exactly the same to me.
Swatch: BB Desert Rose top, Rouge Bunny Rouge Delicata below for comparison.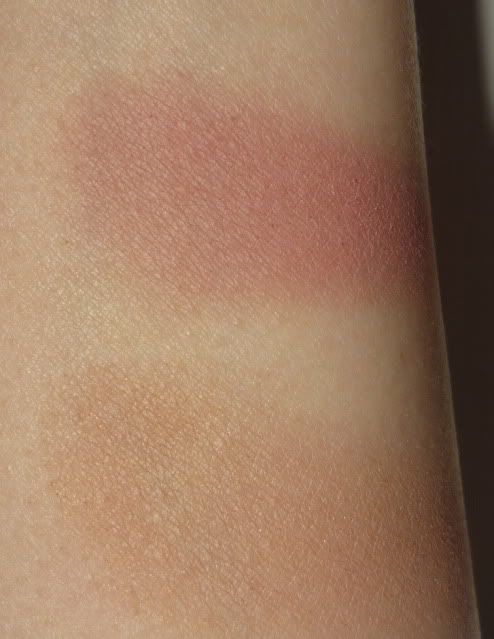 Desert Rose is more pink and does give more of a rose tone. I have swatched it quite heavily here; applied normally it gives subtle colour to my pale (but not porcelain) skin.
If you don't like to buy online or if you would prefer a more well-known brand, the Bobbi Brown blushes are an excellent choice, and my favourite of the 'Big Name' brands for blushes. Wearable basic colours are something that Bobbi Brown does very well, which unfortunately seems to have been a bit lost in the recent carousel of limited edition sets and palettes.
I would caution if buying online that the swatches on
www.bobbibrown.co.uk
don't reflect the true colours of products well on my computer monitor.