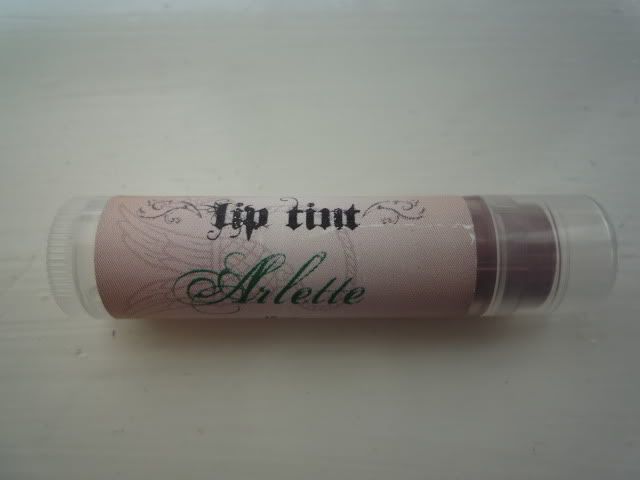 The recommendation to check out the
1HandWashesTheOther Etsy shop
came from Anastasia of
www.LipsticksandLightsabers.com
. When I saw an absinthe-scented sheer red tinted lipbalm with green shimmer (Arlette) I was sold. I threw Victoria (a tea-scented sheer plum) into my order too, and both of these came to $13.50 including shipping to the UK. OHWTO also sells a variety of scented soaps, perfumes and other bathing stuff.
Swatches: left Victoria, right Arlette.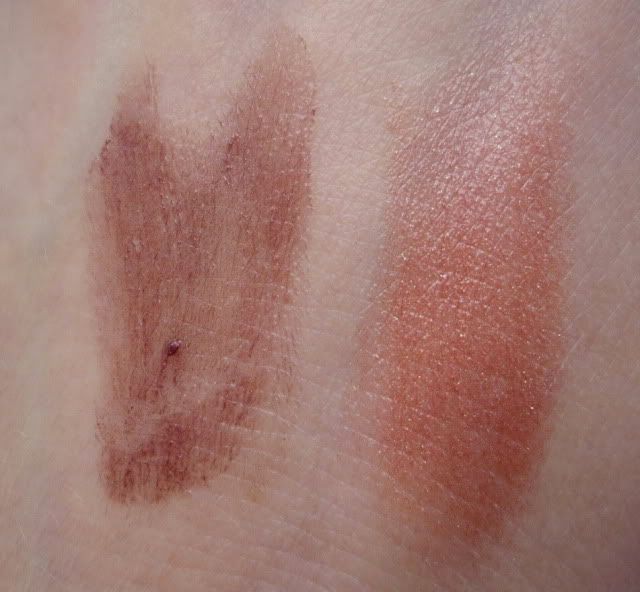 Arlette applied.
Victoria applied.
Victoria is a duller, cooler shade than Arlette, and the shimmer is less apparent than the green shimmer in Arlette. It does make my lips look a little bit bloodless as they are naturally a paleish mauve shade, but sometimes I quite like that as a look and I'll be wearing it tonight for trick or treating. The tea scent in Victoria is very subtle - I can hardly detect it, although it is there. I definitely get a clear absinthe sniff from Arlette though, and a slight tingle from the peppermint. The formula is moisturising without being greasy and although the colour isn't very long-lasting (that's the nature of sheer liptints) it is easy to reapply.
These would be a great option for anyone looking for an alternative to the Alima Lipbalms (the European online store doesn't stock these). I actually find the OHWTO liptints to be more moisturising on my dry lips.
Ingredients: