I was in SpaceNK yesterday with a random £10 credit burning a hole on my N.Dulge card. While I was there, I made a note of some shade descriptions of the Rouge Terrybly and Blush Terrybly range. These are just my jotted down thoughts on the colours, as I know swatches online can be difficult to judge. I most likely won't be buying any of the nudes (100s) but watch out for them on
Visionary Beauty
where Replica has already bought 103. I have already posted pictures of 201
here
and yesterday I bought 200, which I will post a picture of soon. There's a quick swatch of both of them below.
Rouge Terrybly
100 Terrybly Nude: pale, quite warm beige, lighter and with more pink undertones than 103.
101 Flirty Rose: the only really pink shade in the line up, a bit paler than my idea of rose.
102 Fashion Beige: warm, slightly orangey beige brown.
103 Plumping Nude: peachy nude.
104 Bimbo Brown: dreadful name, don't much care for the colour either. Straight warm brown.
200 Frenetic Vermillion: orange toned coral red, softer than the other reds. Not as bright as Julie Hewett Belle Noir or NARS Heatwave, more similar to Kevyn Aucoin Talula.
201 Terrific Rouge: classic red. Similar to Julie Hewett Rouge Noir, not quite as bright as Kevyn Aucoin Poppia.
202 Funky Ruby: bright, blue toned red, similar to Julie Hewett Femme Noir, Tom Ford Cherry Lush.
203 Fanatic Red: warmer, darker and more brick/burgundy red than 201, similar to NARS Viridiana, but more red, similar to Julie Hewett's Coco Noir, but a little more burgundy - a cross between Sin Noir and Coco Noir. Similar to Tom Ford Smoke Red.
204 Narcotic Sienna: brick, more brown than red. Similar to Julie Hewett Coco Noir, but a bit more brown.
Quick swatch of 201 Terrific Rouge (left) and 200 Frenetic Vermillion (right).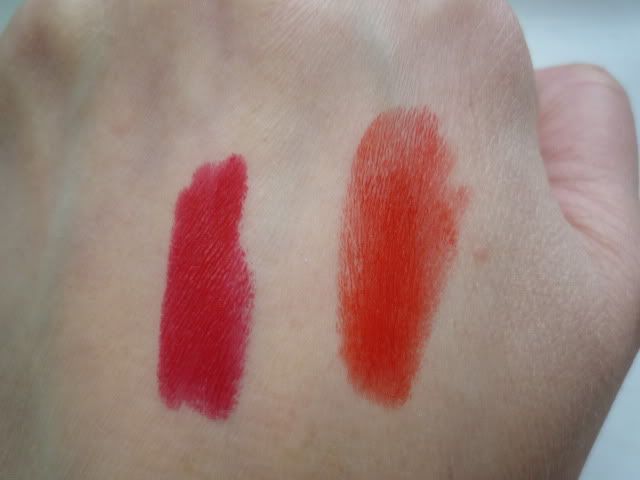 Blush Terrybly
1 Cheek to Cheek Rose: very soft pale rose beige. I was tempted to get this with my £10 off, but it'd still have been £40 with that and I can't see it being £15 better than my favourite neutral/natural blush, Rouge Bunny Rouge Delicata.
2 Erotic Pink: brighter than 1 and a clearer pink (although no obvious mauve/blue tones), but still quite sheer when swatched.
3 Platonic Coral: sheer paleish peach/coral; my picture are
here
, and you can read Marcia's guest review
here
. There's a quick swatch underneath this too.
4 Hypnotic Copper: tawny, not as dark as copper would suggest to me, and also quite sheer. Has warm/orange tones, I'd avoid on paler skin.
3 Platonic Coral swatched on my ring finger pad.