This is the Rouge Bunny Rouge Holiday 2010 look. It was being discussed on Twitter, and shamefacedly I had to admit that I already own a lot of the products used for the look (actually, that's something I like about Rouge Bunny Rouge - the seasonal looks do tend to use products from the existing line-up).
Modesty Brown
challenged me to have a go at translating the look into real life.
Pictured: eyeshadows in Tantalising Lovebird and Delicate Hummingbird, loose pigment in Wishing For Wings and cream blush in Vermeer.
My skintone is a lot more olive than the model in the picture, so I'm always going to muddy the colours up more. I don't own Capricious Nightingale, so I used Tantalising Lovebird in my crease instead, which is a much warmer pink. I substituted MAC Prunella Kohl for the Rouge Bunny Rouge Delilah (I much prefer the texture of the RBR kohl, but I only own the brown Lola from the range. Delilah is on my Christmas list).
I should have gone much more dramatic on the eyes if I really wanted to replicate the look, but I didn't fancy the raised eyebrows at the school gate. I'm not a make-up artist, but I don't know how it would be possible to achieve the brighter violet eyes in the RBR shot without layering with another purple product, although perhaps the combo of Capricious Nightingale underneath might do it. The colour combination in real life is very pretty and wearable though, and reminds me a lot of the
Suqqu Spring 2009 collection
, themed around the contrast of cherry blossoms against bark.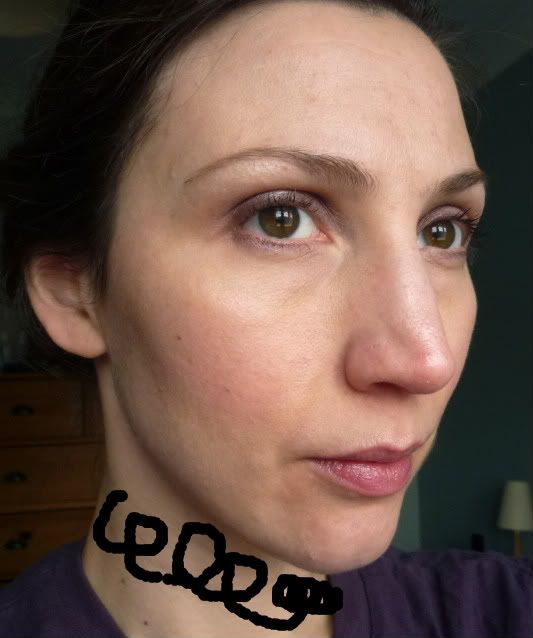 I think I did quite well with the necklace though
Top image is from Rouge Bunny Rouge website,
www.rougebunnyrouge.com
.