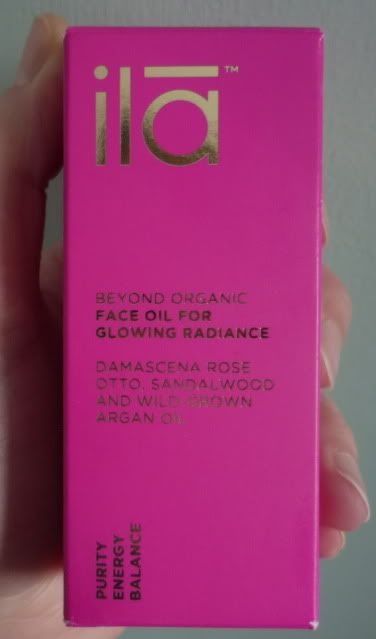 I like facial oils to supplement a moisturiser. In the past I've used and liked Sundari Pitta, Decleor Neroli, Decleor Rose D'Orient and Darphin Chamomile oils, and so I was keen to give Ila's face oil a go when it was sent to me to try.
The biggest benefit of using an oil instead of just switching to a richer moisturiser is that you can target the oil where your skin needs it the most; I concentrate application on my cheeks and neck, take any residue up to my forehead and avoid my chin entirely.
I've been using a drop of this on a damp face and another drop for my neck and decolletage underneath my normal daily moisturiser. You only need the smallest amount; using a drop or two does not leave any oily residue on the skin. I do feel that it has helped to give my skin extra protection in the very cold weather we've been having, preventing dryness and leaving my skin plump and comfortable. The Ila Face Oil is a blend of argan oil, rosehip seed oil, sandalwood and rose otto, and is very nourishing so I'd suggest it's best for normal to dry skin. I think that it might be a little rich for an oily skin in anything other than extreme weather.
It smells (quite potently) of rose with a bit of sandalwood. If you like rosy smells you'll love this, but if you don't care for fragrance in skincare (natural or otherwise) then I would recommend sniffing before buying, because the smell does linger. I personally like the smell very much. The Face Oil is £55, but it's twice the size of most facial oils at 30ml.
The website is at
www.ila-spa.com
.
Ingredients:
Disclosure: product was provided without charge by PR for company.