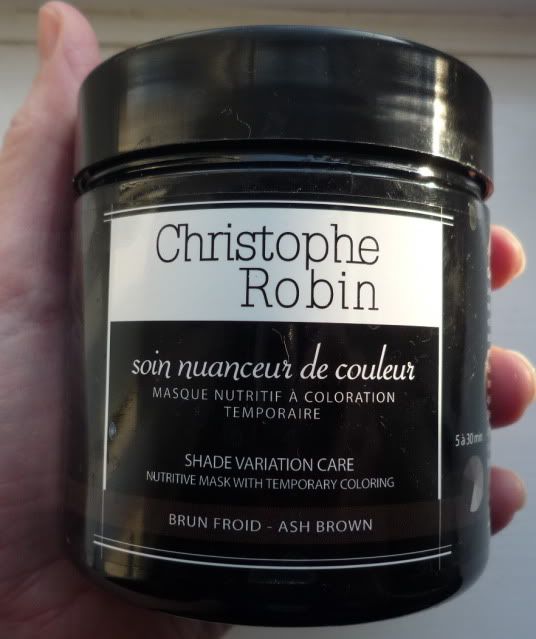 I read about this product on BritishBeautyBlogger.com
here
, and as I constantly battle against red tones in my brown hair I was very interested in the Ash Brown variant. Like the rest of the Christophe Robin range it is silicone-free. I bought this by telephone from
Lost In Beauty
in Primrose Hill, who were happy to send it out to me.
Compared to
Aveda Black Malva colour conditioner
, Christophe Robin Ash Brown is a lighter, less blackened purple shade. It knocks down redness in my hair and adds cooler tones, but without darkening it. I don't find it quite as effective at getting rid of redness as the Black Malva, but it doesn't alter or darken my base shade, so which of these two I'd recommend depends very much on what effect you are after. If you have lighter brown hair and don't want to darken it noticeably, I would recommend the Christophe Robin, as the Black Malva makes my hair a much deeper brunette.
On the left: Christopher Robin, right: Aveda Black Malva colour conditioner.
The Christophe Robin is twice the price of the Aveda colour conditioner for the same amount - the Christophe Robin is £35 and I paid a further £5 for postage. If you are just looking for colour enhancement you might therefore opt for the Aveda, but I do find the conditioning effect of the Christophe Robin more effective; it leaves my hair extremely soft and glossy, and smells pleasantly of parma violets. It doesn't actually cover the greys that are poking through, but it does make them less wiry. I leave it on for the full 30 minutes for maximum colour tone and conditioning.