Top left, clockwise: Rouge Bunny Rouge Delicata, Sue Devitt Koh Samui, NARS Madly.
I like bright lips and as I have almost no natural colour in my cheeks I need a good blush to balance my face when wearing them. Anything too bright can look a bit garish to my eye so a bronzer would be a natural substitution, but I only have a couple of bronzers that work on my skin without being too orange or dark. I tend to prefer to use a beige pink neutral shade of blush instead. These are my picks of the beige-pink blushers.
left to right: NARS Madly, Rouge Bunny Rouge Delicata, Sue Devitt Koh Samui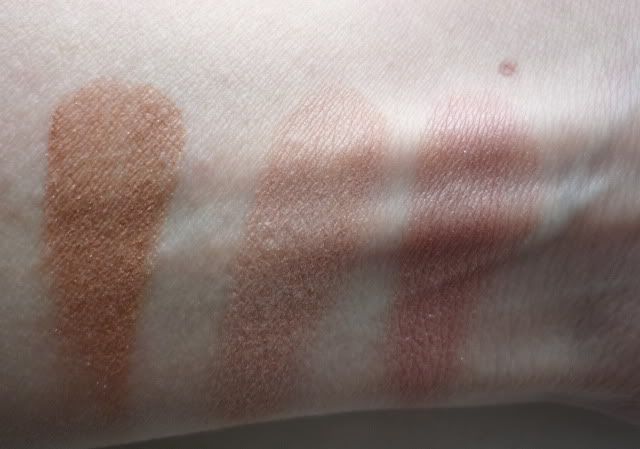 Madly is very warm and quite dark on me when swatched, and the shimmer in it is more obvious than I am completely comfortable in. I do have to be very careful not to overcook Madly on my NC20 (light but not porcelain-pale, olive-toned) skin, or it can look a bit grubby.
Delicata is my Goldilocks 'just right' of beige pink blush. It's not too dark but it adds enough colour to my cheeks to make me look human/alive and the pink/beige/peach shade goes with any lipstick colour. I can apply it with my eyes half-closed in the worst lighting, and it never goes wrong for me.
Koh Samui is a little pinker than the other two, and the shimmer in this blush is a cool silver. This is a good beige pink for a cooler skintone. It works well on me, and the pale shimmer makes it a good 2-in-1 blush/highlighter.
Edit to add:
Here's
a picture of me wearing Delicata,
here's
a picture wearing Koh Samui, and
here's
a picture of Michelle from Lipstick Rules wearing Madly. I think Madly works better on Michelle's slightly warmer and deeper skintone (although I would still say that Michelle has quite fair skin).