Scarlett is from the Icons of Beauty line of lipsticks by Julie Hewett. It is described as a bright rosy fuchsia, and I'd generally agree with that description although I would add 'with a fine, cool mauve shimmer' to it.
Swatch:
Applied on my lips, you can see the shimmer more clearly. It's an opaque lipstick that gives good coverage with one swipe, yet is comfortable on the lips. Like other Julie Hewett lipsticks, it has a subtle natural (non-sickly) rose scent.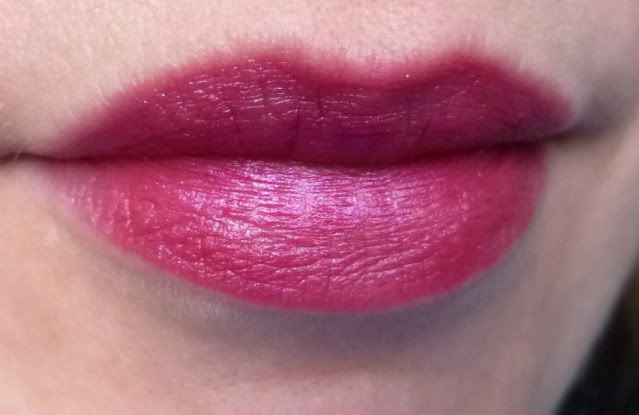 I'd prefer this without the shimmer personally, but I prefer cream lipsticks to shimmer generally. It's a very cheery and bright colour, and a good alternative to Tom Ford Pure Pink if you don't want to spend that much on a lipstick (although the Tom Ford is a cream texture and slightly less blue-based). Julie Hewett products are available from
www.juliehewett.net
(US) and
www.misebeauty.com
(Ireland and UK).