This is the other product that Illamasqua sent me from their new Art of Darkness collection. The Powdered Metals are loose shimmer powders designed to be used on the face or body. You can use them dry for a sheen, or apply with a damp brush or a mixing gel for a more intense shimmer.
When these were originally released last summer, the name put me off a bit from exploring more closely. Powdered Metal suggests a very metallic finish to me which I'm not sure I could pull off, and the bronze-y look isn't one I generally go for so the colours released then didn't call to me much either.
Ether is a pale white gold shade, and it gives a soft glow/sheen to my skin. The texture reminds me a lot of the Becca Loose Shimmer Powders (these used to come in much bigger pots, similar in size to the Illamasqua Powdered Metal, before they were repackaged into the little pots).
Thick swatch to show colour: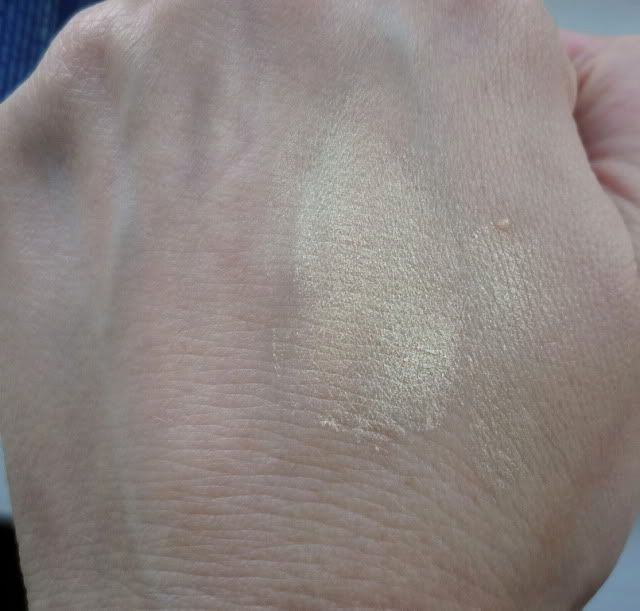 Blended in:
Applied (dry) to my eyelid and up past my crease with a small, firm eyeshadow brush, and dusted on to the top of my cheekbone with a powder puff. It's subtle, and shows up even less in this photo than it does in real life. The blended swatch on my hand is a better representation of the finish.
This is a lovely powder highlighter that works well on my pale skin and is also nice to set cream eyeshadows and give them a subtle gold glow. It's not half as scary/extreme as the name Powdered Metal would suggest, although you can get a more metallic look by mixing with lotion/water/mixing medium.
Disclosure: product was provided without charge for consideration for review.