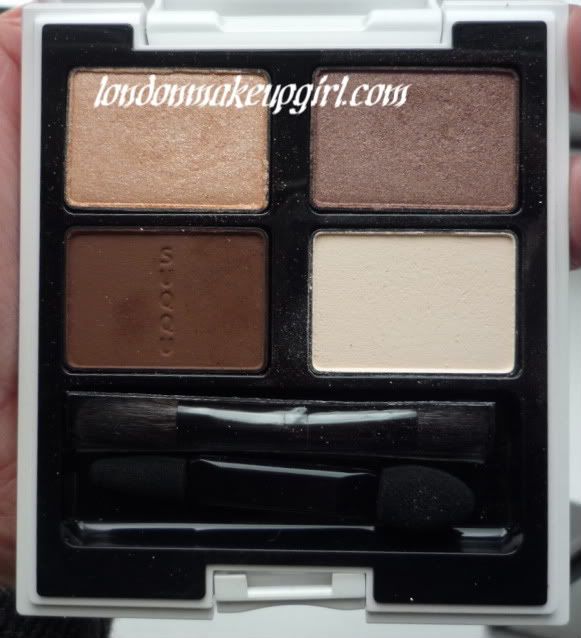 This is eyeshadow palette EX03 Koukon from Suqqu Spring 2010.
Picture applied: Cream (bottom right) all over as a base shade. Golden taupe (top right) all over lid, into crease, and under lower lashes. Matte chocolate (bottom left) in outer corner of lid and along top lashline. Sheer peach (top left) washed over the golden taupe over inner corner of lid and into crease.
With Suqqu Eyeliner Creamy in 04 Brown applied to upper lashline.
I like this quad a lot, but it is similar in tone to Blend Eyeshadow 08 Koucha from Spring 2008 (which was not LE and is still available). I would say that Koucha is more sparkly, whereas Koukon has more subtle shimmer, which is in keeping with the themes of the collections both quads are from. The theme from Spring 2008 was the play of light on water and so it had quite a crystalline, sparkling quality to the collection, and the theme from Spring 2010 was of watercolour painting and so the eyeshadow quads from it are a more subtle combination of washes of different tones and textures.