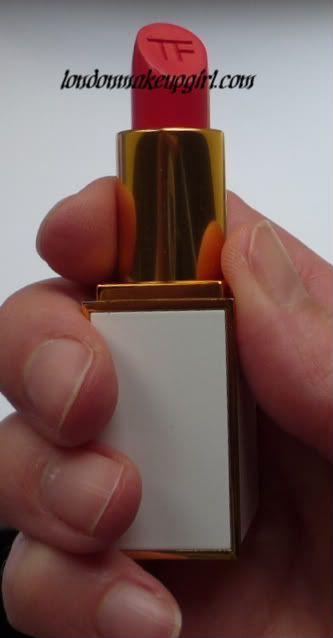 This is Tom Ford True Coral, the last of the Private Blend Lip Color lipsticks I was given to try. It's the one I was most interested in from the article in April's Vogue, and it doesn't disappoint; it's a true bright coral. Although it's bright, it is a nicely balanced coral tone (neither too pink nor too orange) and is therefore very wearable.
On my lips:
In context of the rest of my face. The blush is Chantecaille Emotion, which tones nicely with the True Coral. I'm wearing Chantecaille Shale eyeshadow on my lid and black kohl pencil on my upper lashline.
I really can't make up my mind which I prefer out of this and the Pure Pink; I don't think I could choose between them. There are a lot of corals about this summer; this one and the Smile Lip2Cheek from rms Beauty are my picks of the season.
Disclosure: product was provided without charge for consideration for review.