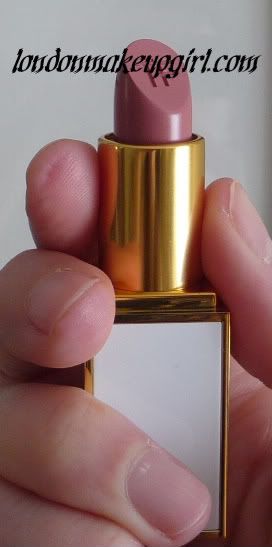 Pink Dusk is the pinkest of the Nude shades in the Tom Ford Private Blend line. My lack of comfort in very nude shades is well-documented, but this has enough pink and is just deep enough not to make my lips disappear into my pale skin.
Picture applied to the lips. On me, it's a nude pink, if you have more colour in your lips then it will read as more of a rosy colour.
This is as comfortable as I'll ever get in a nude lipstick; I don't feel like my lips have disappeared, but it's subtle enough to wear with a heavier eye look. The shades of nude in the collection cover beige, flesh-toned, brown and pink, so there should be a nude to suit everyone. If you'd like descriptions of any of the other nude colours (or any of the other colours in the line), please leave a comment below and I'll do my best to help.
Apologies for the convict-like expression. Miss London was giving me helpful modelling tips ("Look serious, but not sad, Mummy"), so most of the photos looked more like this:
Disclosure: product was provided without charge, for consideration for review.